When we contacted a realtor to start the discussion about putting our house up for sale, we knew about the concept of "staging."  With a sticks-and-bricks home, part of staging is the curb appeal, and part is the first impression when a prospective buyer walks in the front door.
When selling an RV, most owners put many attractive photos on the online listing, which piques the interest of a buyer.  If the RV owner is living in the RV, hiding the evidence of day-to-day life is possible by moving clutter around while you take photos.  Clutter becomes more difficult to hide, however, when a prospective buyer hires an RV Inspector.
An inspection takes 6-8 hours, and during our inspections, we try not to touch any personal effects in the RV.  Since we do not move any personal items, our photos do not hide anything, and it can make a difference in the buyer's perspective.
Which of these two under-bed storage areas give you a better impression of how the current owner may have taken care of their RV?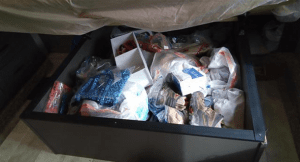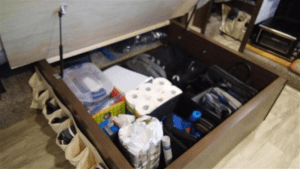 Our clients scrutinize their inspection reports, looking at every detail in the photos and in the words.  Our reports don't include any comments of opinion, but often, the photos speak volumes.  An organized RV is less likely to sew seeds of doubt in a prospective buyers' mind.
Gneiss Goods offers RV inspection services in San Antonio, TX, and the surrounding areas. Contact us to schedule an appointment.